Someone sent me a video on Jim Carrey and although I love him as an actor I wasn't expecting the message that I was about to hear.   If you youtube Jim Carrey Inspirational Videos – you will get exactly that "Inspiration".
I've always known him best from my days of watching Ace Ventura Pet Detective over a gazillion times.   My friends and I can still quote the movie to this day.   So when I watched the first video I was blown away with his passion for life and what drives him to be successful.   The quote below of what he learned from his father is my favorite.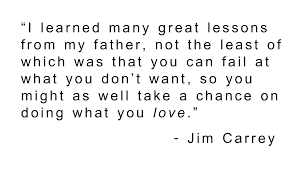 I hope you take a moment to view this video.