These fall art projects are the perfect thing to paint this season. Not only will they put you in a festive mood, but they can create beautiful decor pieces for your home. If you are looking for ideas for your next paint party night or your own fall crafts, grab some friends and work your way down the list.
7 Fall Art Projects to Try
I absolutely love the fall months! Here in Texas, it's a much-welcome respite from the hot summer season. It kind of feels like the entire world can breathe deeply once more. While there's a lot to love about this season, one of my favorite parts is all the fun fall art projects that I get to work on!
This door hanger is just too cute! I love the iconic black and white stripes and that pop of gold hand lettering. The cat and pumpkins may look challenging to paint, but I'll let you in on a little secret…they are pre-cut wooden pieces. All you need to do is add paint.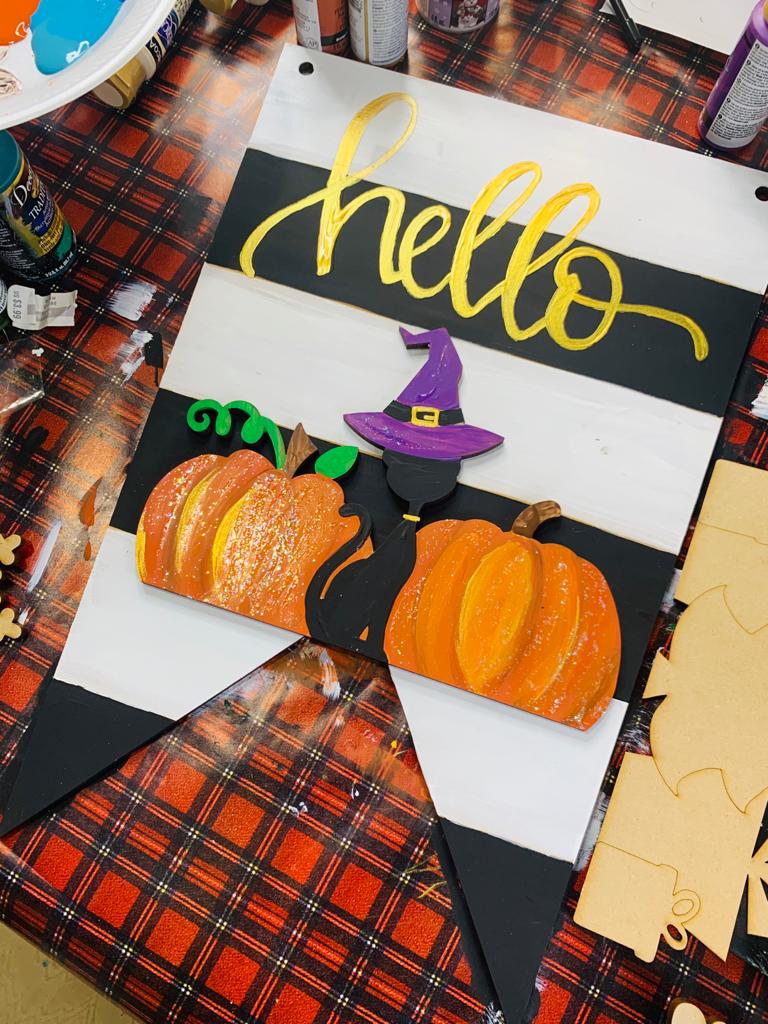 Porch leaners always tend to be some of my most popular projects…and I can see why! Whoever thought of the idea was a genius – all you need is a large board and some paint, and you've got a stunning piece of porch decor.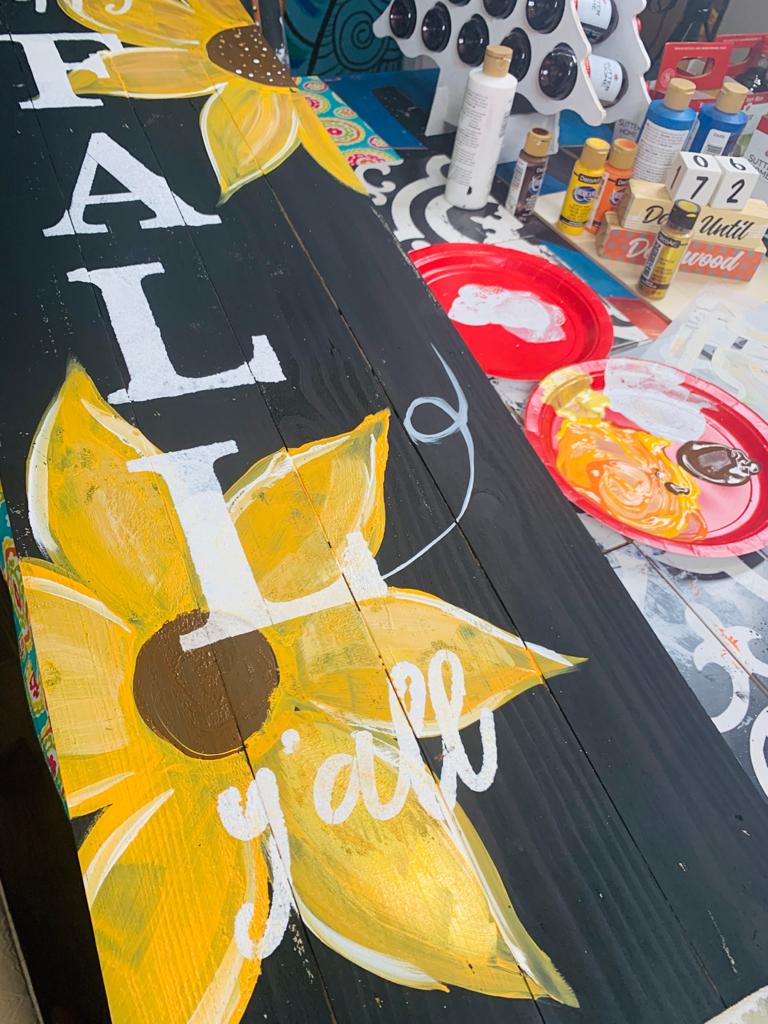 This free download is one of my favorites! I used bubble wrap to get that fun background texture—give it a try and see how it works for you! Plus, you can change out the initials in the tree and personalize this one as a gift for someone too.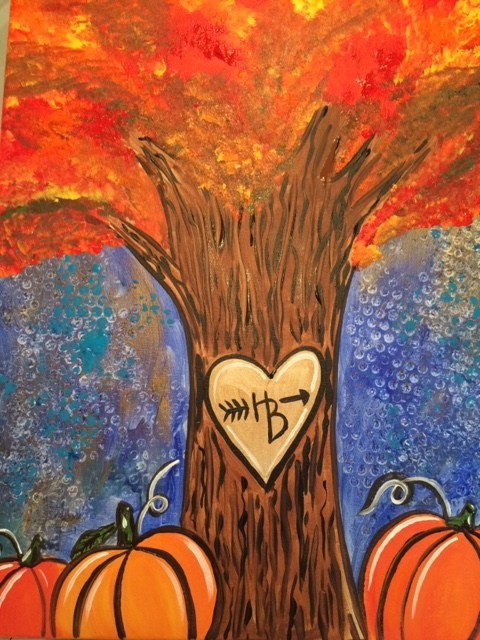 This wooden sign is incredibly easy to make thanks to a stencil. You can change the entire look of this project by painting or even staining the background, and changing the color of the truck. Custom wood signs are always great for making a little extra money over the holiday season. You could add your name or town's name as an easy diy wood sign idea.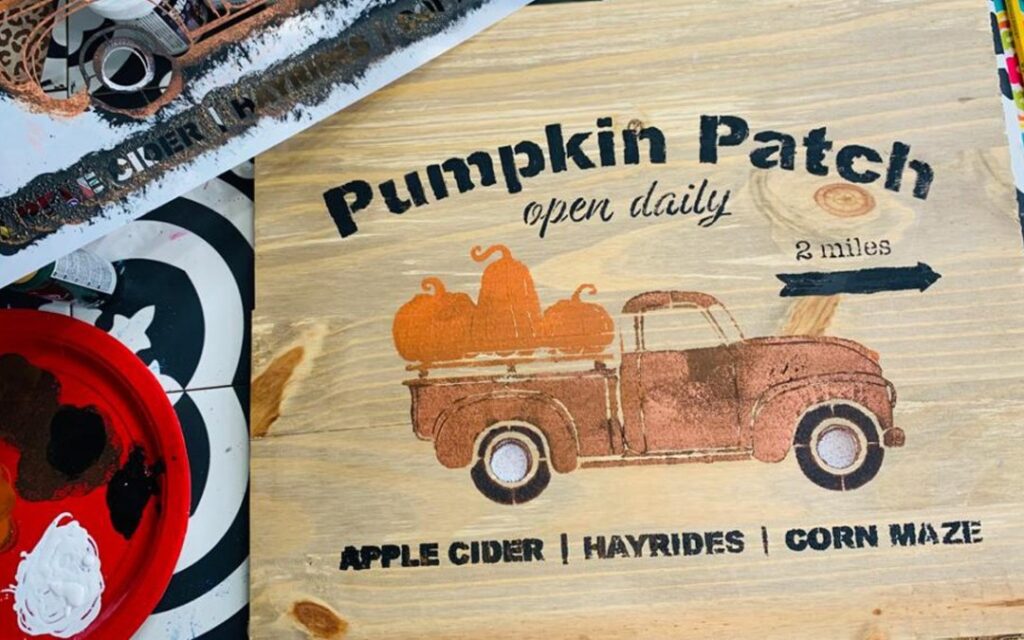 I know I'm not supposed to have favorites, but I'm kind of obsessed with this one! Watch the video on the post to see the easy leopard technique I used on the scarf, then give it a try for yourself. Pumpkin crafts are popular every Fall and this pumpkin painting on canvas was super fun and easy to create!
You know what we say in Texas… go BIG or go home! This giant pumpkin painting certainly fits the bill. It may be a large painting, but it is still an easy pumpkin painting on canvas you can do or change to fit your own Fall decorating ideas.
This project is so nice that I painted it twice! This sunflower fall art project uses a lot of the same techniques as #2 above, but turned out looking totally different! I love coming up with new porch sign ideas to jazz up the front of the house. To learn how to make a porch sign, check out this post below.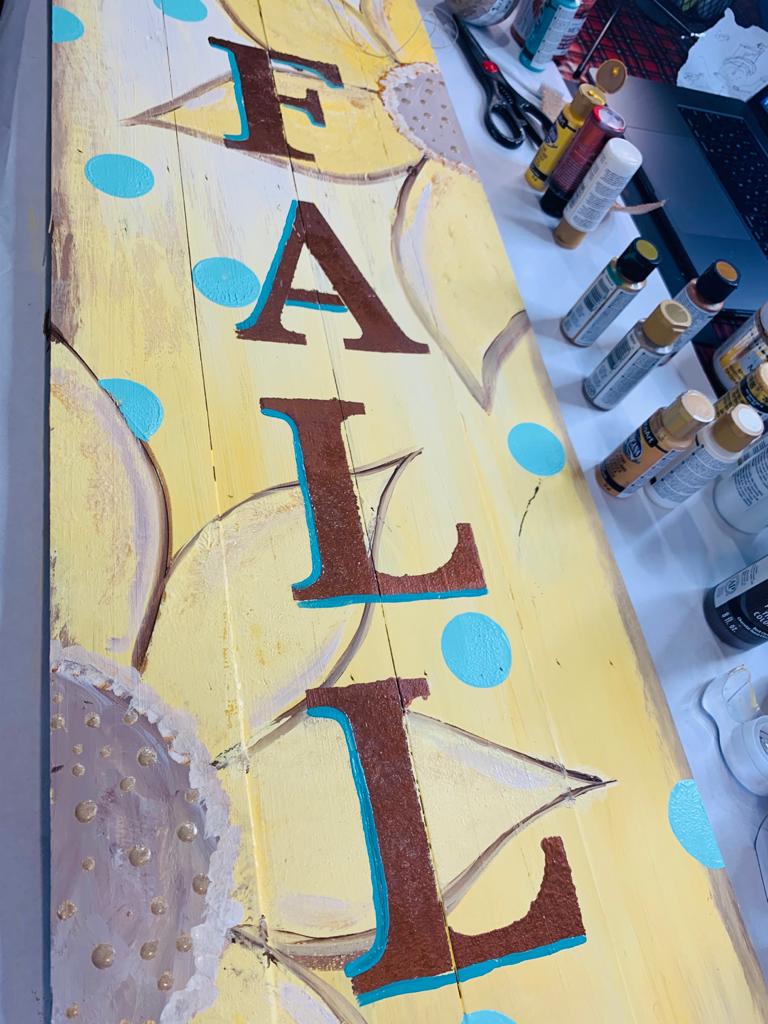 Make Extra Money for the Holidays Teaching Art
If you are looking for an easy way to earn money for the upcoming holidays, why not grab some friends and teach a paint party using these pieces as inspiration? It truly doesn't get better than earning money while doing what you love! If you would like to learn more about how to start a paint party business and make money with your own sip and paint parties, take a look at Paint Party Headquarters. This is where I peel back the curtain and show you EVERYTHING you need to know about running a successful paint party business.