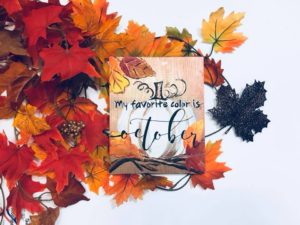 Why do people assume when you're an Artist you are automatically a Designer?
Today I painted ALL day! It was fantastic. I listened to music and just painted…. in my own little world.
Then I thought… hmmmm…. let me take pics of my artwork like all those Instagram folks with a bazillion followers do… So I talk my loving husband into getting my Fall decorations out of the storage shed in 150 degrees! (It's like an oven up there people!)
Now, I love fall and Christmas, but our decorating or "designing" consists of 1 Fall tote and tinsel thrown ALL over our tree! By the time we are done decorating for anything, it almost looks like we were robbed and things were thrown about!
So… here I go. I'm going to do a mini photo shoot for my newest editions for my Fall Collection. (That's fancy for… Paint Parties!)
I lay out my dollar store leaves along with a few little odds and ends and quickly realize I've trapped myself in a mess of extension cords and glitter. As I'm right by the door I also see that the small hole in the bottom of the door is allowing bugs to come in searching for all the light surrounding my paintings.
I'm trapped.
In a sea of poster boards, lights, fall decor, paintings, glitter, extension cords, pumpkins, and a few bugs roaming around.
Thinking to myself… Those girls on Instagram ARE so AWESOME! and…I will never look at a perfect picture of a mug that says "Girl Boss" and a cute pen haphazardly thrown about in the same way again. Hats off to you amazing Instagram friends!
So, cheers to my newest Fall Collection! I mean …. Paint Parties… and I hope you enjoy the pictures! Cuz there is a HUGE mess waiting for me to clean up tomorrow!
PS: I'd love for you to vote on your favorite by commenting below. (Owl… Pumpkin…Coffee)
PSS: If you are wanting to start your own paint party business… check out my freebie! 5 Reasons Why YOU should Teach a Paint Party!!!
https://heidi-easley.clickfunnels.com/opting34rx9h1