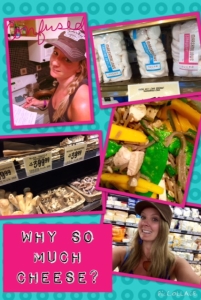 This week my friend from South Africa took me to Central Market!    It was my first visit and I was in awe!   As I walked through the aisle it hit me how CREATIVE cooking can be.  
I was amazed at the interesting final product of foods I have never seen together.   I was also really confused at what a person might do with $399.99 lb of mushrooms.   Oh… and why so much cheese?   Who needs that many options!
As you can tell, I am NOT a chef.    I struggle to make the simple things like spaghetti, but over the last few years I have had more of an interest in cooking.    My mother-in-law ordered these meals that come with all the ingredients and then you just throw it together!
Well… not that simple!  
You can see a picture of me trying to not be frustrated as I read step-by-step directions.   What the author of the food menu did not realize is that someone like me (with very limited knowledge in the kitchen) has no idea what a shallot is or even how to mince garlic.    So my 30 minute prep time took over an hour using lots of calming breathing techniques in the process.
The reason I share this with you is because I know how the simple things can be like learning a new language if trying something new.   
Art is the same way!   Something that sounds so simple to me may be very challenging to someone who is just starting out.     That is why I love to teach people step-by-step using language that is familiar so the frustration is gone and creativity can begin!
Oh, I almost forgot…. I cooked the entire meal and it turned out ok!   I learned that apparently chicken only needs to be cooked for a few minutes and not for 30.   Hmmm…. no wonder my chicken was always so gross!   (Here's a quick sorry to my hubby for all the tough chicken he has ate over the past several years!)
I hope you find some time to create today!