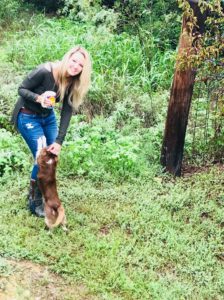 "Life starts all over again when it gets crisp in the fall."
– F. Scott Fitzgerald
Fall is one of my favorite times of year!     This picture was taken just a few days ago, right after days of rain in Texas.   However, there was a coolness to the air and I can feel fall coming.
Fall for me is a time of reset!
About this time of year I take a deep breath.   I start getting up before the sun and work in the quiet.  
I know what's coming over the next 3 months.    
Paint Parties and Pumpkin Painting Parties GALORE!    I have to be intentional about creating time for Bobby and Pixie.   She made it really clear on Saturday, NO WORK IT'S GIRLS DAY!!!   (See photo below when I opened up my computer Saturday morning)   
How will you fill your next 3 months?    
What will be your focus?    
Extremely Grateful,
Heidi