Today's project is a fan favorite! This DIY merry Christmas porch sign is sure to catch anyone's eye at over six feet tall! Learn how you can easily paint this decor piece on your own with this simple video tutorial.
If you are looking for an easy, high-impact decor piece for your front porch, look no further! This sign will spread cheer to your entire neighborhood right from your front porch. Plus, just think of how impressed your neighbors will be when you tell them that you painted it entirely on your own!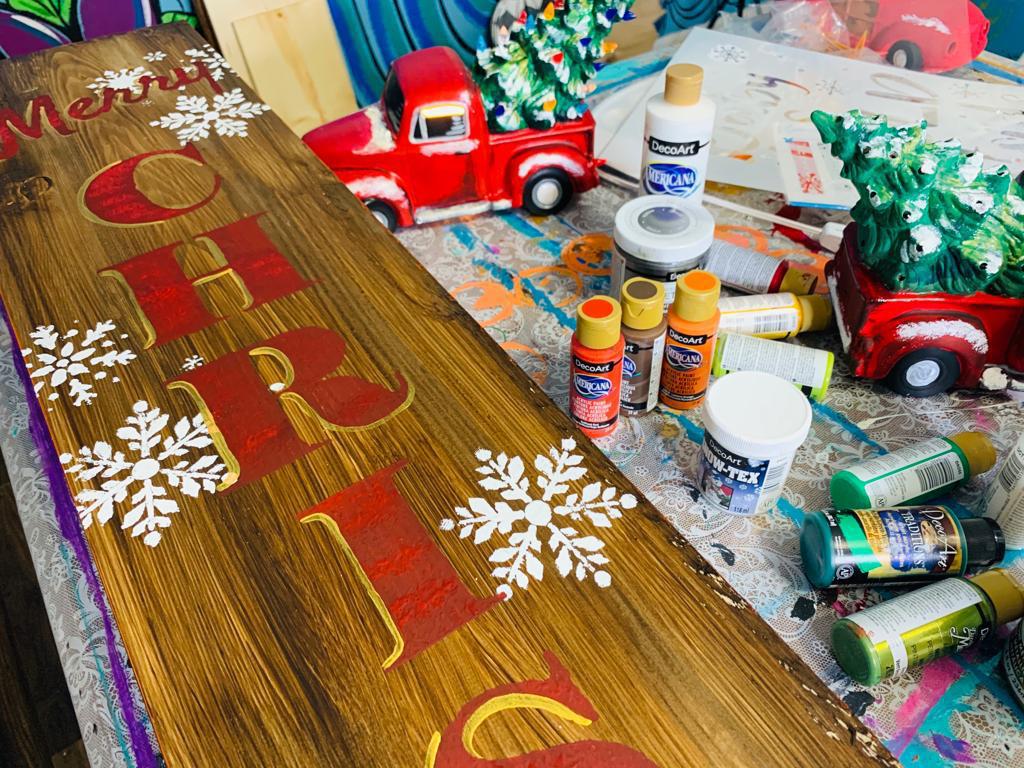 How to Make a DIY Merry Christmas Porch Sign
I know holiday wreaths are the standard way to dress up a front door. Don't get me wrong, I love a good wreath, but sometimes I want something that's a bit more custom and can truly pack a punch!
This porch leaner sign definitely answers that call. It's festive and BIG – and here in Texas, we're all about bigger being better! Here's how to paint one of your own, step by step.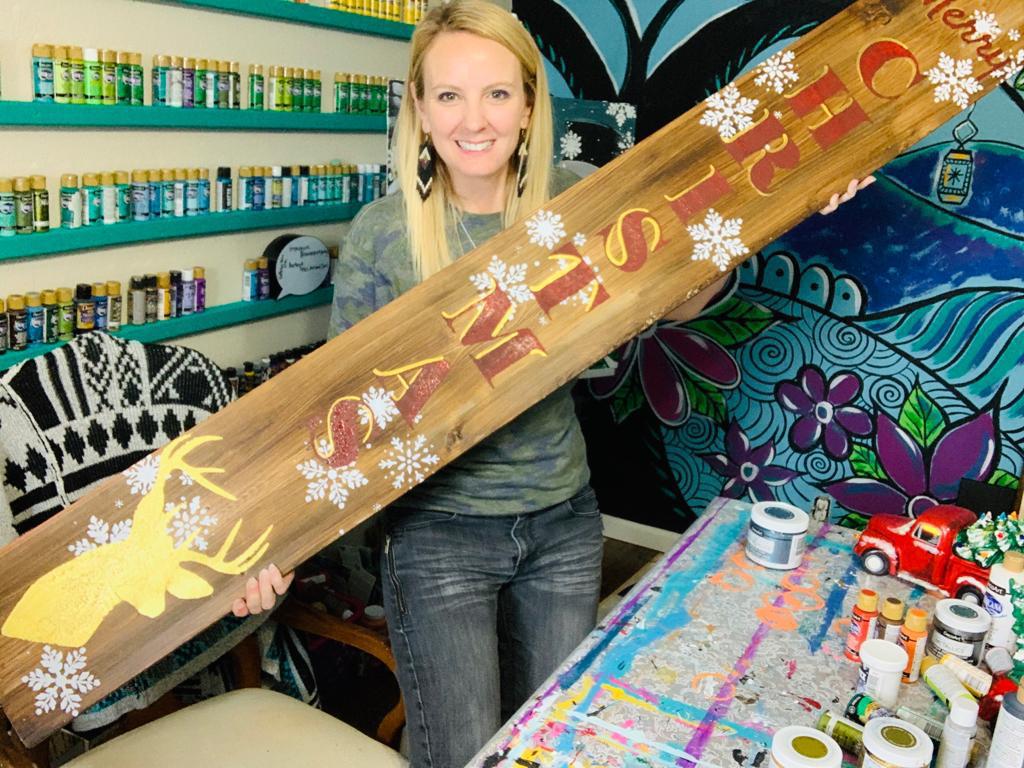 1. Gather Your Friends
Okay, so technically this one is optional. However, if you love art, there is no better way than to make some extra money for the holidays, or even a thriving career teaching paint parties! Whether you teach online, in person, or both, I'll walk you through exactly how to make money doing what you love in Paint Party Headquarters.
2. Prep Your Board
I grabbed a six-foot board from my local home improvement store. Then, I used a glaze from General Finishes to prep it so it has a nice pretty warm wood tone. You could also paint the board white or another color if you prefer, but I like the look of the wood here!
3. Add Stencils + Paint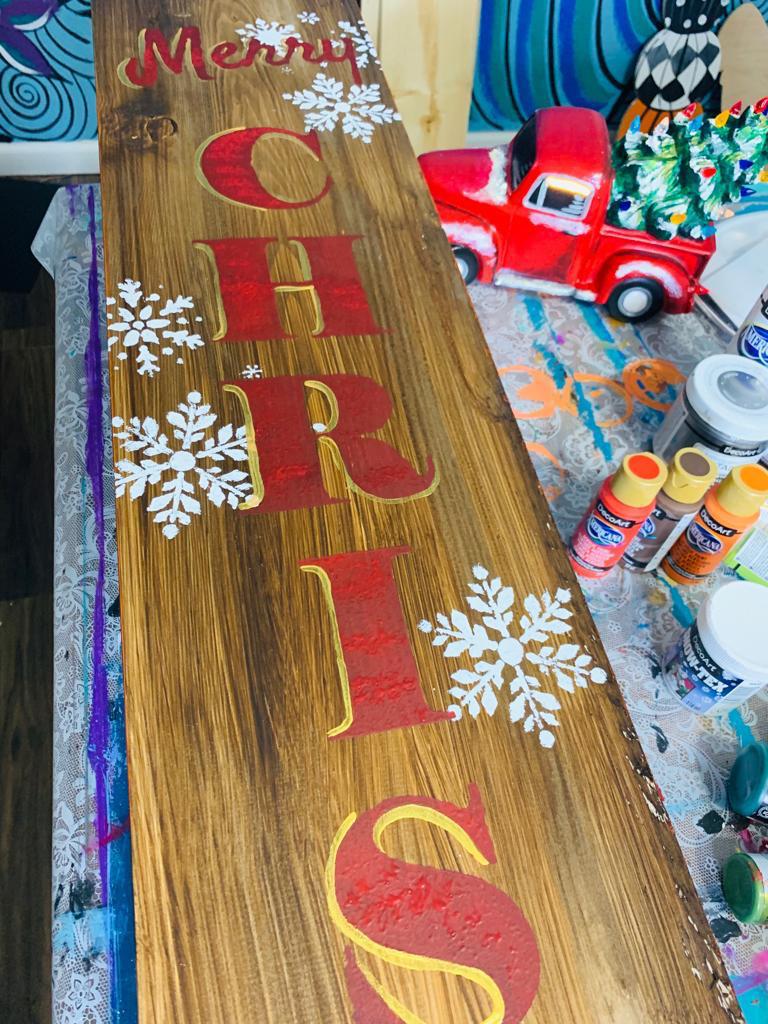 I am using stencils from my all-time favorite stencil brand, Essential Stencils! Truly, I can't recommend them enough. I go through SO many stencils, and theirs truly has longevity. Plus, how cute are they?
Because we are using such a large board, you get to use some of their fun extra stencils too—snowflakes!
By the way, if you want to learn about how to teach paint parties (and you should!), stencils are one of my secret weapons!
I opted to use white acrylic paint for the snowflakes. With a cheap brush from Lowes, I just started dabbing on the white paint. If you get some outside the lines – no problem! 🙂 It's only paint, y'all!
For my letters, which I did in red, I went back and added a fine outline to them in white to help them pop a bit!
Don't forget to check out Essential Stencils and use code TEXASHEIDI at checkout! 🙂
4. Add Polyurethane Finish
To give your Merry Christmas porch sign longevity, I recommend spraying it with a couple of coats of poly after your paint has dried. I just use a clear gloss, but there is also matte if you prefer that look.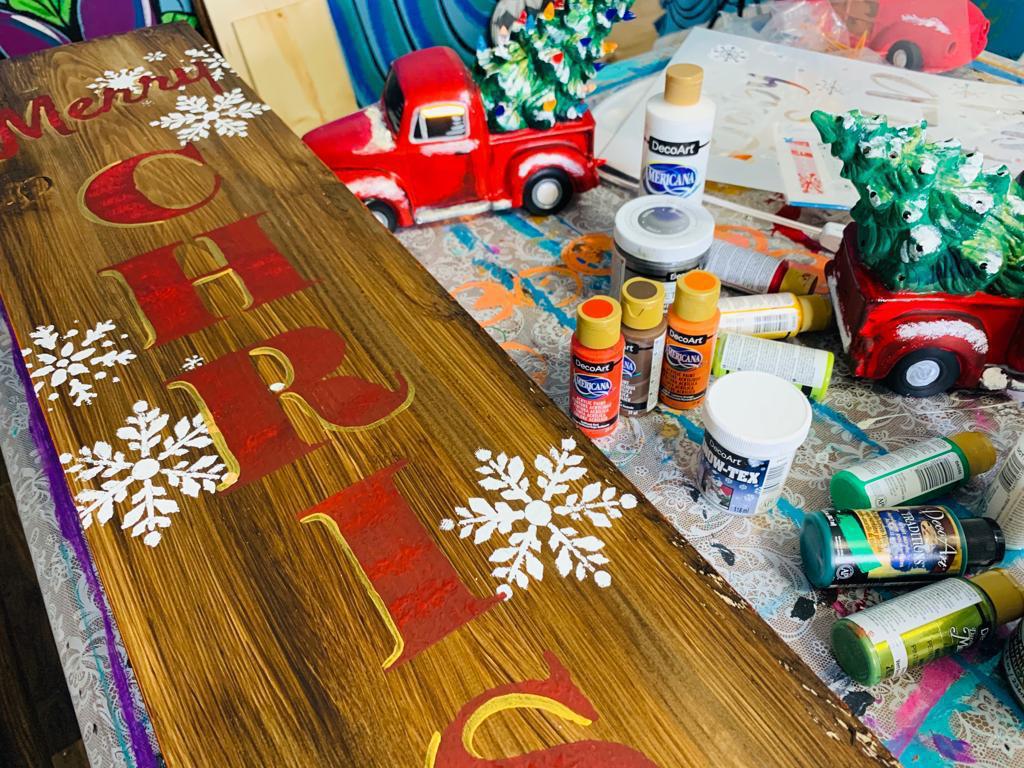 Watch the Video: DIY Merry Christmas Porch Sign
If you all are visual learners like I am, you'll appreciate this video! In this Facebook live, I walk you through how to paint this entire Christmas porch leaner, step by step!
Grab a Free Double Snowman Tutorial
When you watch the video, you'll see an adorable double snowman painting. I'm giving you EVERYTHING you need to paint this on your own or with a group of friends, including a supply list and step by step instructions with a video! Just add your email address here and it will be sent to you immediately.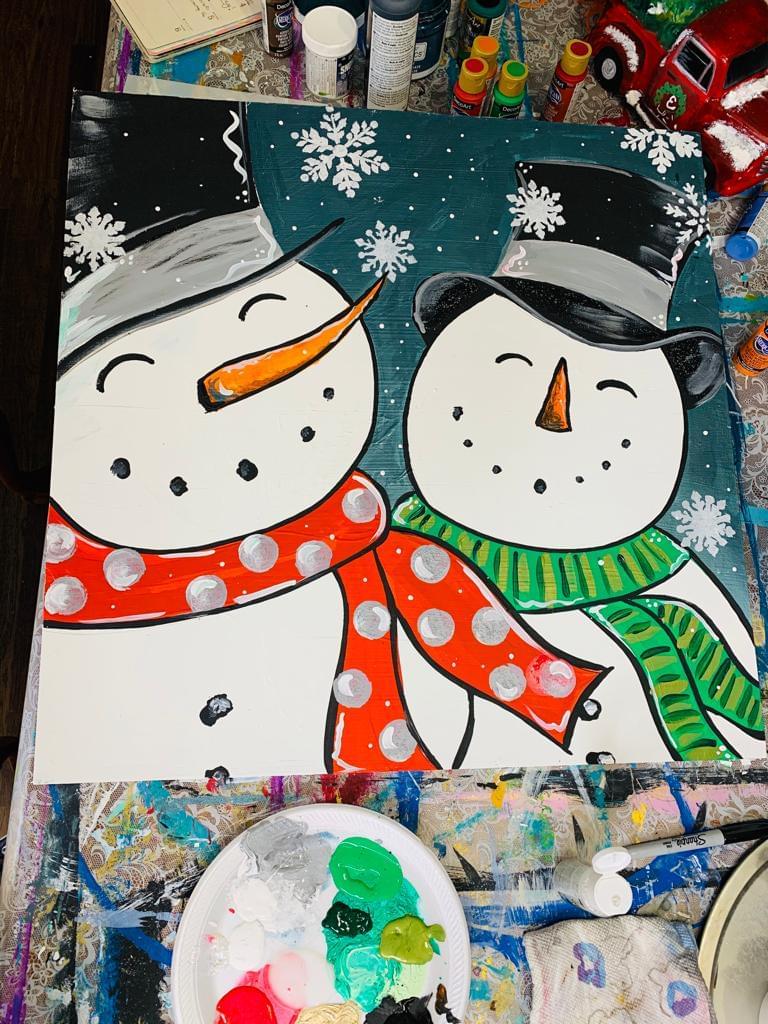 More Christmas Art Ideas: