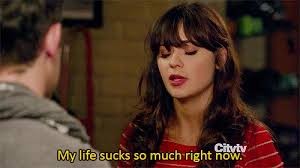 Have you ever been knocked down?    Have you ever had a bad day? 
Well, let me tell you a little story.   I'm an EXTREME optimist!   Pretty much to a fault sometimes.  I always think the best of others even when they are wrong.   For example:   Someone might say something rude to me and although it makes me a little angry, I just silently think in my head that they must have something going on at home.
My husband is a realist.   He always wants the best, but has a plan B for when my extreme optimism doesn't work out.  I think that is what keeps us balanced.
Well… this month has been brutal for our family.    
* ICU Hospitalization of a family member
* Husband's big job didn't come through
* Working on taxes gave me heart palpitations – Numbers are NOT my friend!
* Sprained my painting arm trying to be a gladiator at a bootcamp
* Husband now being laid off from his current job
Then I realized… Sometimes LIFE can just SUCK!   
Being an optimist I try to look at all the good in my life.   I have tons!   Great husband, daughter, family & friends that love me.   A warm bed to sleep in, food on the table, great clients, a job that I love, etc….etc….  The list goes on.
Even as I write this I feel guilty.   Most people in the world have it WAY worse than we do right now!    But, my feelings still are there.   My thoughts still go to that place of WHY is this happening?
I know this is a small trial in our life and we will get through it as we always do.
I keep remembering quotes like:   "It's not the amount of times you get hit, it's the amount of times you get back up."  OR "The struggle you are in today is what is developing the strength you will need for tomorrow."
Then I start to FREAK out…. What does God have planned for us tomorrow if this trial is giving us strength to get through something else!???!!??   
Anyway, my point is….  Sometimes LIFE SUCKS!    But, it's all about how you react to it.
My daughter (she's 9) immediately said "Come to my room for a family meeting!")   She has a white board and made a chart with Mommy, Pixie and Daddy at the top.    She then asked us to go in rotation and call out places that he could work.  Of course my first thought was Marshall's!   (Hey – I want the discount on the discount clothes!)   Pixie says the new CC's Pizza that's opening soon… She loves pizza like we all do!    I come back with Babe's Chicken house, Pixie with Michaels…etc…After going around about 3-4 times with all our top picks we all agreed THE SKATING RINK!    (our family has some sick moves)
So, you have to find a sense of humor in EVERYTHING!    Life can be hard…. it definitely will throw you some curve balls.   But, as you go through the hard times, find a way to laugh.    Find any small thing that can make you smile so you can get through it.   
With that being said… We've said our prayers and asked for guidance on the next chapter of what life will bring us.
Then, I've dove face first into painting.   This is where I find my peace.   
I hope this email / blog post finds you well…. and remember, we wouldn't recognize the good times in life without the bad.  So if you're in a good place cherish it, appreciate it.   Enjoy it!
Extremely Grateful,
Heidi
PS:  Interested in throwing a Painting party or an ARSTY party? Or just want to tell me about YOUR bad day? Send me a text!