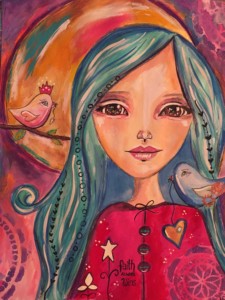 Hope you're having a great day!   This past week after finding out I need surgery for the hole in my heart I just wanted to create something meaningful for me.   
Tam Laporte from Willowing.org was giving a lesson away from her Life Book class so I decided to jump aboard!    Here are pictures throughout the process.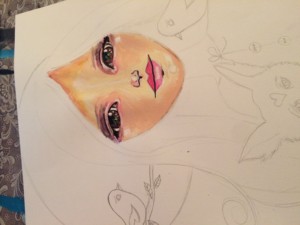 Sorry Blue – I was having trouble painting Blue so I painted over him.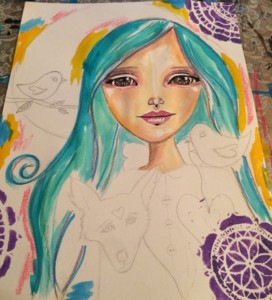 I LOVED using a mixture of colored pencils, inks, metallic inks, acrylic, stencils, black markers, and watercolors!
Here is my finished product.   I have my daughter Pixie on the left holding a symbol of a cross and my husband on my shoulder holding my patched up heart.   I loved creating this project and it means so much to me.   I hope you like it!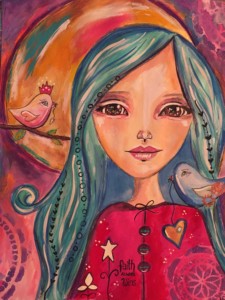 Also, my husband used my drawing of the famous quote "Not All Who Wander Are Lost" by 
J. R. R. Tolkien quote from The Lord of the Rings.   He made me a sticker and it seems to be popular so I thought I'd offer it here for sale.   Just click on the picture below if you want to order!   We will be shipping out this week!!!  🙂