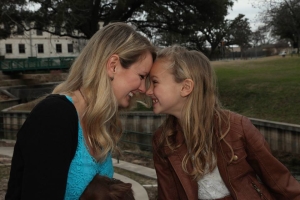 Sometimes I feel like I wasn't meant to be a parent….
Now, before you go all crazy on me… hear me out.    I have one child… only one.   I've been a teacher for 9 years and I get my fill of kids.  My daughter is the best!   She is a really good kid and I'm not just saying that… I have taught thousands of kids so I do really have thousands of kids to compare her too.
However, sometimes I just want a minute!   The other day we are grocery shopping and I listened to all her stories as we went through the store, played car games on the way home, talked over some homework project plans, discussed why sometimes people wear certain things (saw an interesting outfit at the grocery store), and many other things.
We start putting groceries away and now she has bursted into song.   The dog is jumping around needing to go outside, my hands are overloaded with plastic grocery bags and my daughter is in her own little world probably on a Broadway stage somewhere.
I mean…. how long can someone actually use their vocal cords?   
At that moment… all the frustration from the day and all the patience I had for the last 2 hours comes bolting out!   "Pixie!  I need a break!!!   Please STOP!!!"
In her little cute head she sees nothing wrong, but as creative as she is on the outside my head is constantly making lists, organizing the evenings dinner plans, remembering something that has to go in the mail, etc….   You moms know the drill….
So for a second I feel really bad.  I grab an adult beverage in the fridge and let her go to her room while I finish putting up groceries in silence.   My brain starts to think… Maybe I wasn't meant to be a parent.
But then the next day…. 
My daughter comes into the art studio and asks "What can I do to help you?"   And I say oh my gosh… I really need help, you don't mind?    She says "it's the least you can do for being such a great mom!"   My heart melts and I am SO THANKFUL to be a parent!   So thankful to be HER MOM!
So I hug her and thank her and then put her straight to work!     I'll hold onto that comment the next time my daughter is in full force performance mode for her version of Wicked.
So, the whole point of this story is to remind you to take time for yourself.   Take time to do the things you love so you don't end up bitter and overworked.   
Our SOUL needs it!    Our husband needs it and especially our little ones looking up to us need it!   
My soul needs art…painting especially.   There is nothing better than spending an hour in Michaels buying fun new paints and then heading home for an afternoon of creating!   Find what speaks to you!  
Extremely Grateful,
Heidi