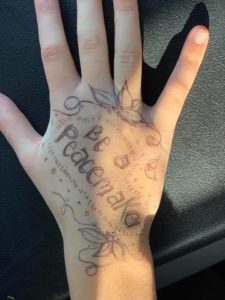 This Sunday's message….
I often draw on Pixies hands during church. Sometimes it's a NYC skyline and other times it's a random cartoon.
This Sunday I drew the message that came through loud and clear.
The challenging part of the message was to apologize when it's mostly the other persons fault.
That can be hard. Really hard especially when we all want to be right al the time.
It's normal to want to be right. But God doesn't call us to be normal.
Being a Peace Maker is different than being a Peace Keeper.
Try this week to be the Peace Maker.
In other news Paint Parties are in full swing!    At one of the most recent parties a lady was using SnowTex and as she was laughing she said "It's like toothpaste with sand!"
It's so much fun and the texture is a blast to work with!   ????
Also, check out my
FB Page
for all kinds of art fun this week!   I'm collaborating with my creative friends online as well as Patty from Deep Space Sparkle to bring you all kinds of fun goodies!!!  I'll post on my page everyday so
check it out!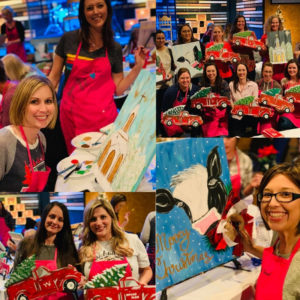 Extremely Grateful for you!
Heidi