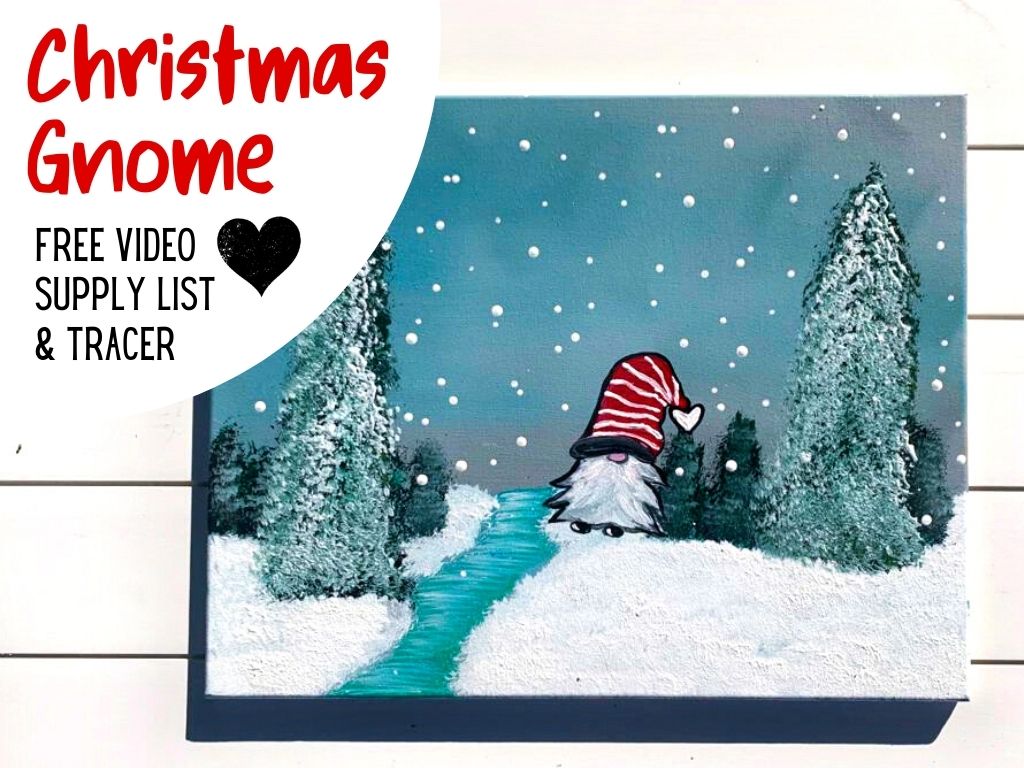 One of our family holiday traditions each year is putting up the Christmas Tree while watching Hallmark movies and sipping a sweet Starbucks drink. It's not a big tradition, but it's ours and I love nothing more than having that special family time together.
I wanted a new cute painting to add to the fireplace mantel next to our tree this year. It seems like little gnomes keep popping up every season so, I decided to paint this sweet painting that could stay up through the Winter months too!
I wanted to share it with you too. The Step-by-Step Video, Supply List, and Tracer are all completely free for you to use to create your own version of this Winter Gnome painting. Be sure to download those HERE first, then following along with the instructions below.
Winter Gnome Step-by-Step Painting
I started off by painting the sky a very light slate grey with a touch of blue mixed in. It's a winter blue (not the winter blues). I painted the sky just a little more than half way down, then used more blue and grey to paint the ground. This can all be done with a large chip brush.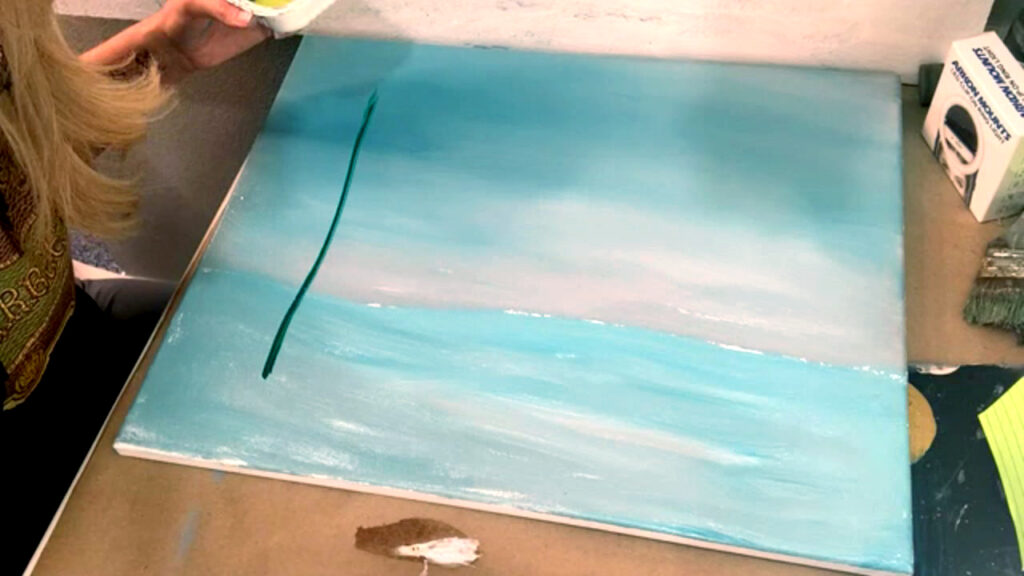 But, within just a few minutes I had paint all over the canvas and it was completely covered. Super easy!
I took a 1′ flat brush and added in some tree trunks in dark green. Next, I took a 1″ chip brush and dabbed in the shape of the trees. Don't freak out because it looks black. I'm just blocking in where the trees will go. Later, I will add more greens.
Just think "Bob Ross" as I'm painting.
Dab, dab, dab….
Then, the next layer is dark green. Dab, dab, dab… (You can watch HERE to see exactly how I do it.)
With the same chip brush, I layer different shade of green on top of the trees. I add some lighter green and metallic green. These are the highlights of the trees. I don't want to repaint the entire tree, just the outer edges.
With a clean brush and white paint, I continue this dabbing all around the base of the trees and around the riverbanks. Be sure to leave the river untouched, so the background color shows through. You want this part to look like water. Then, I finish each tree with white paint and some more dabbing. This creates some fun snow texture. With a 1″ flat brush, I added some white horizontal zig-zag lines on the water.
Gnome what?! We paint him next!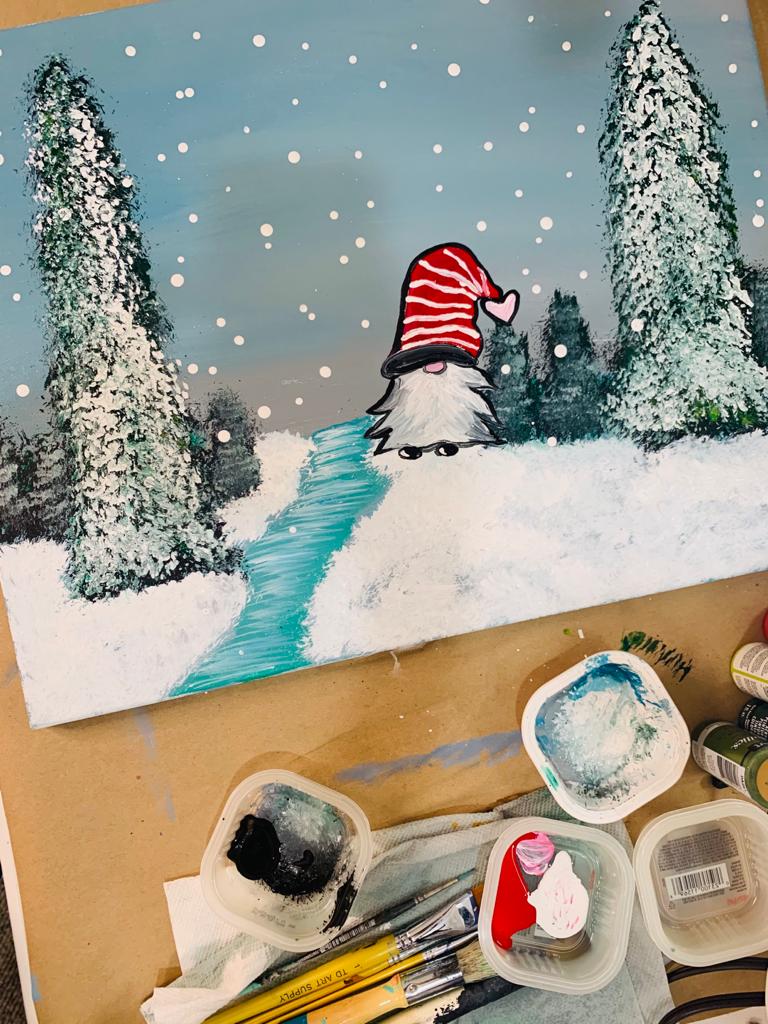 I created the gnome free-hand, but I have a full Supply List and Tracer for you to use, to make it easier for you to create!
I used my favorite holiday red paint and painted his little hat, so happy and bright. Then, with a small round brush I painted in his beard with white paint. Because I made wispy lines with my brush, his hair had depth. And, I finished his look with a little light pink, rosy nose.
After that, I let the gnome dry for a few moment.
It's time to make this a beautiful Winter wonder land. So, I used the handle of a brush and stamped in some white falling snow.
To finish the look. I used a tiny liner brushed and pure black paint and outlined his boots, body, nose, and hat. And, thin white lines across his hat were the perfect touch. I also added a white highlight on his hat brim and shoes to make them pop! Then, I finished his hat by adding a pom-pom in the shape of a heart. Now, this can be a fun Valentines Day painting too!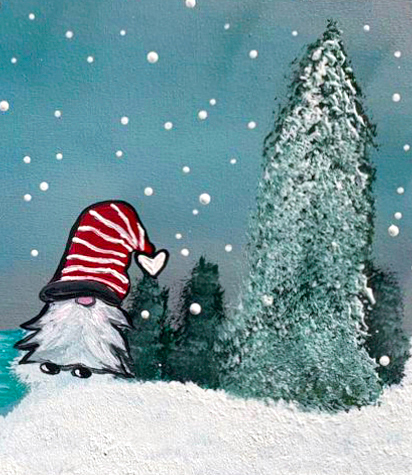 I hope you love this painting as much as I do. I would love to see your creative spin on this design too or photos of where you hung it in your house. You can tag me on Instagram @texasartandsoul_ in a post or story, so I can see your designs!
You might also like my Free Snowman Painting Tutorial too! So, check it out, if you have time.