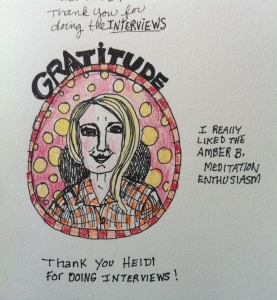 Wow, it's been quite a month!   I am so grateful!   I'm on the very end of my first Interview Series and have loved every minute of it!   So thankful my family supported me during these 14 hour days!   Tons of work, but WAY worth it!   Not only have I expanded my knowledge and have spoken to tons of artists that I follow & admire, I also have received TONS of feedback from you!
I have really enjoyed getting to know you through emails and hear your feedback and fun art stories.   I keep reading emails to my husband from y'all.  Oh and I have really enjoyed the drawings that some of you have sent in!
Thanks so much for being a part of this experience.   I am so grateful and I hope you have enjoyed the experience of these interviews.