Ceramic Bunny Box – Perfect for Paint Parties!
I'm in love with this cute little ceramic bunny! This is such a great idea for a Paint Party, or a gift for bunny lovers! I mean, who doesn't want a ceramic rabbit? ???? This adorable guy will look great in any colors, so you can match him to your Springtime décor. You can even get a jump on Easter decorations – it's never too early to start preparing!
If you're looking for a fun project for springtime Paint Parties, look no further than Spring-themed ceramics. This bunny box is really a no-brainer when it comes to getting ready for Spring! Think pretty flowers and designs and vibrant colors! I love Spring!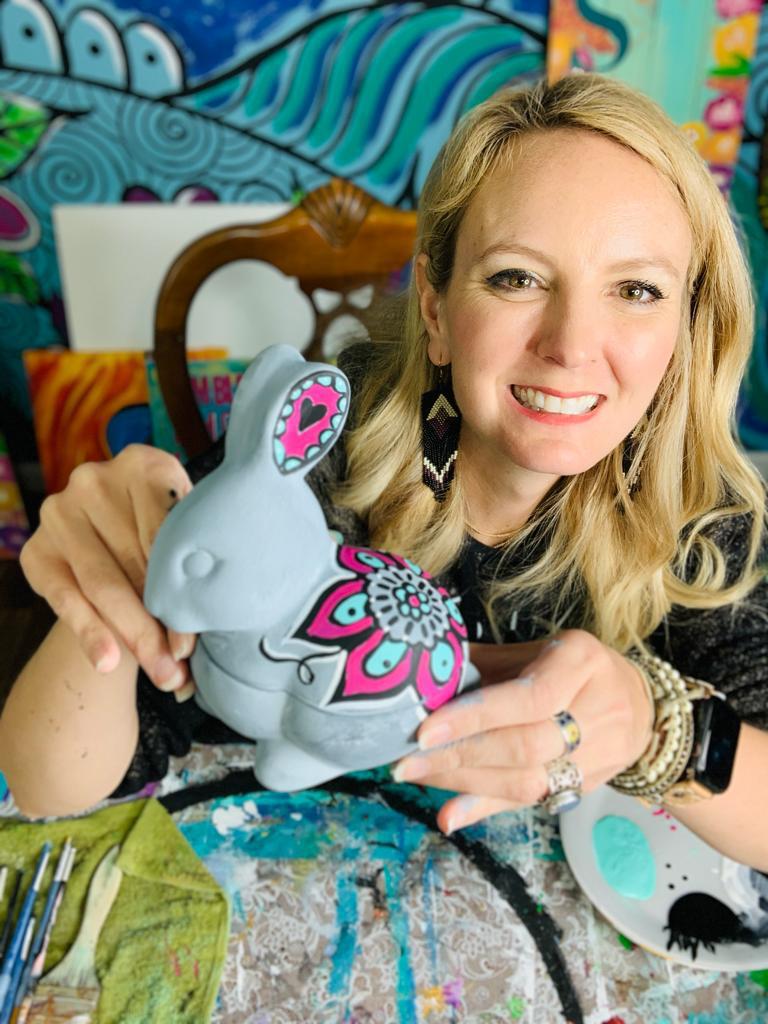 You know, there are so many fun ideas for Paint Parties that don't involve painting on plain ol' canvas. This ceramic bunny box is just one of the many items you can paint with your friends and family. If you need some fresh, new ideas to shake up your Paint Party game, try some ceramics!
How to Paint Your Own Ceramic Bunny Box
For this cute little guy, I painted the whole thing gray and added some pretty designs using black paint and a liner brush. You can jazz up your own bunny box with some creative spring designs.
After I was happy with the designs, I added some color! For this project, I used DecoArt Acrylic paint in Sea Breeze and Royal Fuchsia to color the designs.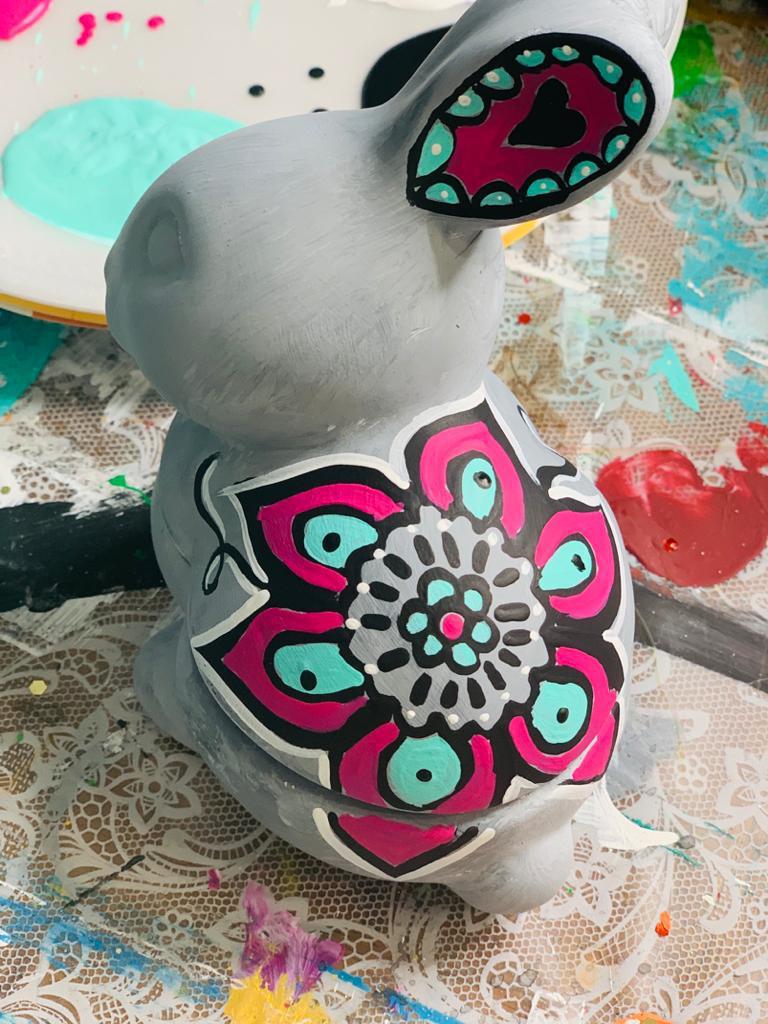 Because this is a make-and-take project, meaning my Paint Party customers will paint their ceramic piece and take it home the same day, I have a couple tricks up my sleeve to finish the bunny off! The ceramic material is actually called Bisqueware. Once you're done painting, let it dry completely and then add a coat of Mod Podge for a finished look. OR, you can take it outside and use a quick spray sealer, which makes it nice and shiny and makes it look like it's been fired in a kiln! It's the coolest thing!
If you like to watch videos to get you in the mood for painting, check out my ceramic bunny painting video here!
When To Throw a Spring Paint Party
Obviously, this cute ceramic bunny box is a very Springy sort of project, but you can do it any time of year!
My strategy for themed paint parties is to stay a couple of months ahead. So if you're wondering when to throw a Spring-themed paint party, February is the perfect time! Once February hits, it's a bit too late to start thinking about Valentine themed parties. This is the time of year to immerse yourself in all things pretty flowers and cute bunnies!
If you want more Springtime Paint Party ideas, check out my canvas bunny painting tutorial here!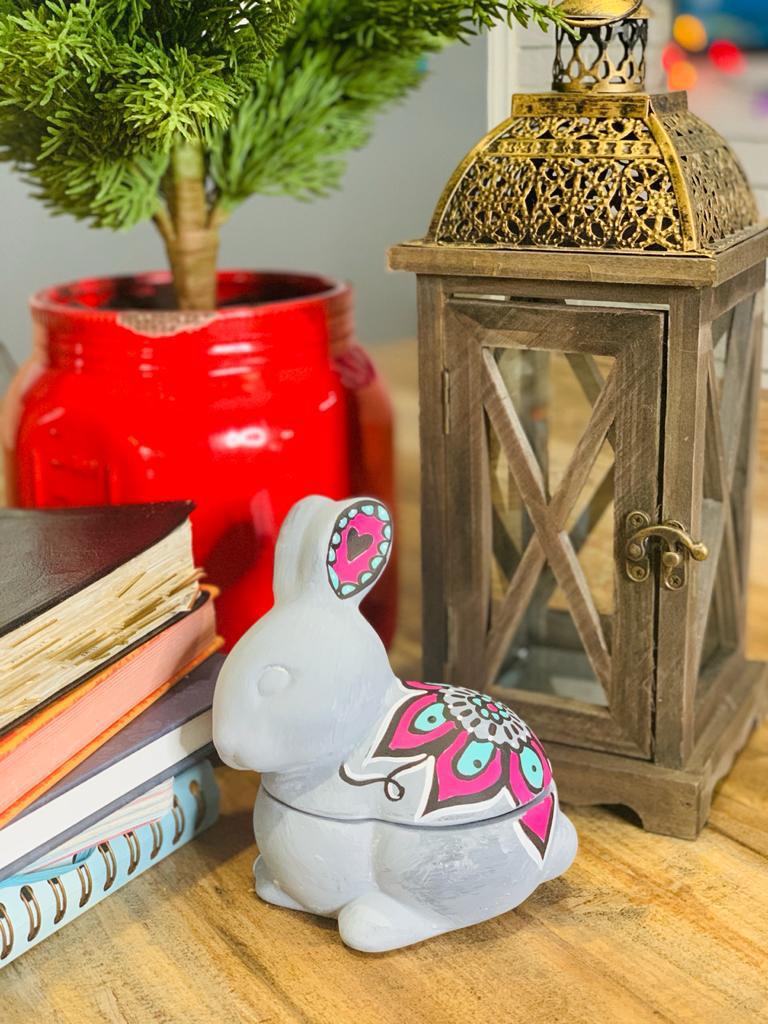 More Paint Party Tips
When I'm hosting a paint party, I like to have my finished piece all ready to go to show my partygoers. Then I can walk around and help people instead of being distracted by painting my own piece.
Need more painting designs for your paint party business? Get rights to these designs and more in Paint Party Headquarters! You can get on the waitlist here!